Lugnaquilla & Glendalough Paper
€14.40
Lugnaquilla & Glendalough 1:25,000 Scale Map
Description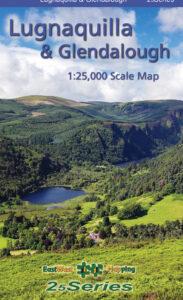 Definitive detailed map from our 25Series of Wicklow at 1:25,000 scale covering from Wicklow Gap to Aughavannagh and Donard to Laragh. Districts of Glendalough, Glenmalure, Lugnaquilla, Wicklow Gap and Imaal all shown. Depicts in very considerable detail some of the most scenic parts of Wicklow for the benefit of both visitor and local alike. We have conducted considerable research into local sites & placenames and much information is recorded on this map. Printed on good quality Progeo 90gsm map paper. The map sheet measures 1125mm x 820mm, covering 550 sq kilometres and is folded down to 125mm x 205mm. Read care instructions in FAQ.
Also available fully encapsulated for durability and weatherproofing.
1:25,000 Scale : 1 centimetre on the map = 250 metres on the ground. Contour Interval : 5 metres.
To view sample detail and map coverage, click on the images on the right.
This map is also available as part of a set of our three Wicklow 25Series maps on paper or encapsulated at a discounted price
Published April 2018. This 1:25,000 scale map replaces the 1:30,000 published in 2010 and 2013.