EastWest Mapping digital maps now run on the Hiiker app. Hiiker is  digital map solution for mobile devices running under Apple iOS or Android. To use our maps on Hiiker, you need to subscribe to the Pro+ subscription model. You can buy a one year or three year subscription. With this, you'll have access to all 1:25K digital maps from EastWest Mapping including Wicklow, Comeragh,Galtees, Connemara, Reeks and more. In addition, you'll also have access to full 1:50K mapping from OSi, OSNI, OSGB and Harvey maps. So this is a very comprehensive package. Plan routes and track/ record where you go etc.
The Hiiker app has been developed in Ireland and  also carries details of many waymarked popular long distance & loop walk trails. Used as a general navigation app, it will have many of the useful features that became popular with the now defunct ViewRanger app.
Download Hiiker for iPhone from the AppStore and for Android phones from the Google PlayStore.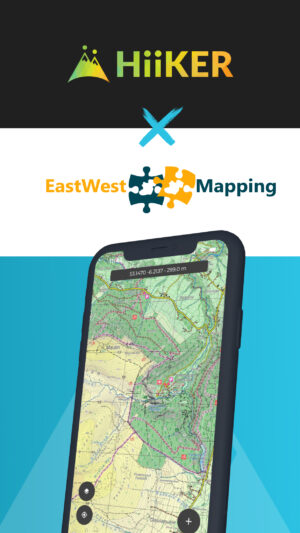 The EastWest Maps app remains functional and any customer that purchased a map for this app can continue to use same. However as of 9th June 2022, no additional maps can be purchased for this app. Users have been offered free one, two or three year subscriptions with Hiiker. See above. No further maintenance will be carried on on the EastWest Maps app and in time it may cease to function on new devices. Users are advised to keep their existing mobile device on which to run the app, even if upgrading to a new model.
Garmin make very good handheld GPS units. Unfortunately, we can't supply digital mapping for Garmin GPS devices. This is due to the costs required to put our maps on Garmin devices, costs that are simply unjustifiable for smaller publishers. If you would like to see EastWest Mapping maps available on Garmin devices, please email the company and advise them as one of their customers.
Contact us today for any inquiries by simply filling out details. We will get back as soon as possible.