EastWest Maps is our preferred digital map solution for mobile devices running under Apple iOS or Android. Best used on a second or older phone with other apps closed. It can be downloaded free from the Play Store on Android devices or the App Store on Apple devices. You can download a free detailed test map of Clare Island, Co.Mayo so as to try out the app. If the device has a GPS chip, location will be displayed onscreen on the map etc. Once installed and maps downloaded, the app does not need a mobile network connection to function. All our topographic mapping is published on this EastWest Maps app. Maps of Dublin & Wicklow, Comeragh & Galtees, Connemara, Blackstairs, Achill & Nephin are available via in app purchasing. This is our platform of choice for any new digital map products, including the forthcoming Reeks & Killarney area.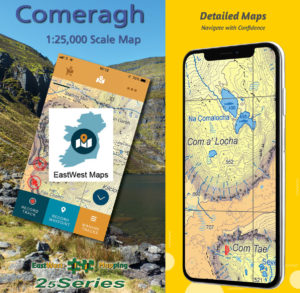 ViewRanger is/was a free app that turns your smart phone into a functioning GPS unit for navigation. ViewRanger was taken over by Outdooractive in 2020 and will cease to operate on the 1st March 2022. Existing customers  of ViewRanger/ Outdooractive that own EastWest Mapping maps will be invited to switch to Outdooractive. EastWest Mapping maps that ran on ViewRanger will not run on the Outdooractive app but we are informed that customers will be given access to OSi mapping by way of compensation.
Unfortunately, we can't supply digital mapping for Garmin GPS devices. This is due to the costs required to put our maps on Garmin devices, costs that are simply unjustifiable for smaller publishers. If you would like to see EastWest Mapping maps available on Garmin devices, please email the company and advise them as one of their customers
Contact us today for any inquiries by simply filling out details. We will get back as soon as possible.